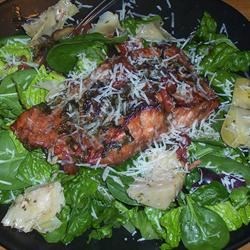 Image and recipe taken from
AllRecipes.com
.
Tender, aromatic, and flavorful, this broiled salmon recipe brings out the best flavors of Mediterranean cooking. I have detailed some instruction on broiling, since it's easy to burn your food in some ovens. As an alternative, you could probably get away with cooking the salmon for 30 minutes at 375 degrees.
For side dishes, we made tabulleh, hummus, and pita bread.
Ingredients:
1/2 cup olive oil

1/4 cup balsamic vinegar

4 cloves of garlic (pressed or minced)

1 pound of salmon, skin on preferred

1 tablespoon cilantro

1 tablespoon basil

Directions:
Preheat your oven's broiler (or set to 500 degrees if it does not broil). Make sure your oven rack is AT LEAST 6 inches from the top.

Mix together the olive oil, balsamic vinegar, and garlic in a baking dish.

Place your salmon fillet(s) in the olive oil, being sure to coat both sides.
Rub cilantro and basil on the meat side of the salmon and place back in the baking dish, skin side up. Allow this to marinate while your oven preheats, or for at least 10 minutes.
Now we broil the meat, keeping the skin side up. Depending on your oven, the salmon should stay in for roughly 15 minutes. Use a kitchen timer set for 3 minute intervals. This will help you monitor the fish and keep it from burning. After each interval, be sure to rotate the baking dish, and flip the salmon skin side down after your second or third interval. In my case, the fish was flaky and delicious after about 12 minutes.