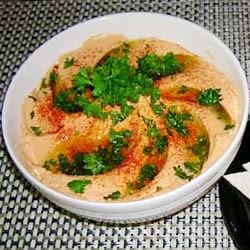 Image and recipe taken from
AllRecipes.com
.
Sometimes, even the best recipes fall short simply because of the quality of the ingredients. I've noticed this especially with store-bought hummus. If you want to save yourself from boring flavor (and a high price tag!), then try out this hummus recipe!
Yields: 24 servings
Ingredients:
3 cans of garbanzo beans (chickpeas), drained
1/2 cup tahini (sesame paste)
1/4 cup lemon juice
1 1/2 teaspoons salt
3 cloves of garlic
1 1/4 tablespoons olive oil
Pinch of paprika
Parsley leaves (for garnish)
Directions:
Combine all ingredients in food processor, and blend until well mixed.
Sprinkle paprika on finished product, plate, and serve with a parsley garnish.
Pairs well with pita bread or chips, or with your favorite vegetable. Also works as a great spread for sandwiches!